Our Creative Engagement programs aim to foster inclusion through creativity, initiative and expression.  We believe meaningful creative engagement happens when an individual, groups and the local community participate in an exchange of ideas, skills and cultural expression resulting in the development of a healthy and vibrant community.
---
The George V Deneff Gallery & Community Exhibitions

The Exhibitions Department at Able ARTS Work exists to showcase the creative work of artists through in-house gallery shows, community exhibitions and sales of artwork to private and corporate collections. We are dedicated to fostering and promoting the work of artists with and without disabilities through an inclusive platform where artists earn a 50% commission on the sale of their work. Our exhibitions include partnerships with artists, organizations and institutions.

For more information contact:
Kristy Glass
Director of Community Advancement
kglass@ableartswork.org
3626 E. Pacific Coast Hwy.
Long Beach, CA 90804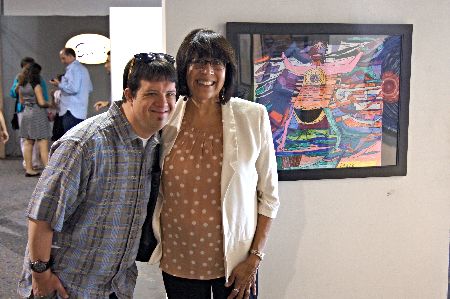 ---
ARTifact Forum & Gallery

ARTifact Forum & Gallery is a creative arts exhibition and learning space. This space serves as a public gallery space to showcase art, performance and installation work, where the exchange of ideas and experiences are encouraged. ARTifact also hosts creative arts workshops and offers vocational training opportunities in the arts for individuals with and without disabilities. Workshops are open to all members of the local community for a small materials fee.

For more information contact,
Kristy Glass
Director of Community Advancement
kglass@ableartswork.org
---
The Go! Store

The GO! Store, is a shop of handmade wonders where Able ARTS Work's resident artists earn an income from the sale of their one of a kind wares. Our items are inspired by the simplicities in life. From a love-filled crush to a color obsession, each item often has a story behind it. The GO! Store is also a vocational program that enables resident artists at Able ARTS Work to acquire product development and basic small business skills.

Shop with us online at https://www.etsy.com/shop/ableartsworkgostore, we look forward to your visit!

For more information contact,
3626 East Pacific Coast Hwy
Long Beach, CA 90803
562 982 0247
info@ableartswork.org
---
ArtBeat Radio

ArtBeat Radio (ABR) is an experiment in social media and broadcasting from Gardena, CA. Working together, the student-comprised staff of ABR brainstorm different multimedia experiences, each of which explore a different topic. Students enjoy creating many different types of pieces, including video, original songs or poetry, podcasts, and more! The goal of ArtBeat Radio is to explore the myriad ways in which the students of Able ARTS Work can make their unique voices heard by engaging the ever-expanding virtual world.

For more information please email info@ableartswork.org
---
REMO NSL Comfort Sound Technology

In partnership with REMO, Inc., Able ARTS Work offers wellness instruments developed specifically to aid as a tool for special needs populations. These instruments have been developed with input from music therapists, clinicians and other educators that want adapted instruments to further access their student and clients' greater health, therapeutic benefits and learning outcomes. Able ARTS Work is proud to offer a small discount so that your purchase of Comfort Sound Technology instruments supports Able ARTS Work programs and services.

For more information contact: 562.982.0247.
Able ARTS Work is a proud REMO Recreational Music Partner offering inspiring music-making activities year after year. For 20 years REMO, Inc. has created rhythm tools that anyone can use. East to play, colorful, durable and designed with you mind!

See the full line of REMO instruments at www.remo.com/rmp